The present and future exhibitions of Kuzmin's painting in 2021
In June.
Oil on canvas, H 80 x W 90 cm
( H 31.5 x W 35.4 inches). 2007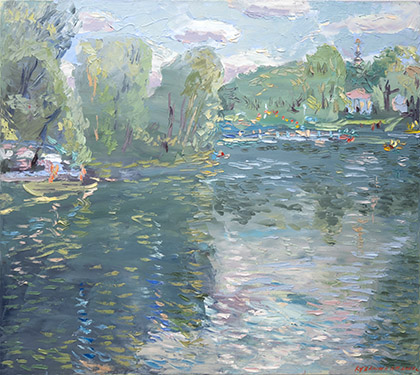 From September 17 to October 17, 2021
Viroflay (F-78220) in the Yvelines, France
is presenting two works by Nikolai Kuzmin.
This year 'Remembering Corot' pays homage to Danièle Fuchs' (1931-2013) talent.
The theme of the exhibition is: 'Serenity'.
The preview will take place on Thursday, the 16th of September 2021 at 6:30pm.
'Remembering Corot' is open every day from 2pm to 7pm. Free entrance.
À l'Écu de France, 1 rue Robert Cahen (corner 76 avenue du Général Leclerc), 78220 Viroflay, France.
Phone: +33 (0)1 39 07 11 80.
Childhood memory. Returning from the war.
Oil on canvas, 120 x 120 cm
(47.2 x 47.2 inches). 2005